<![if !vml]>
<![endif]>
SUICIDE BY ADAPTING A QUARTERLY SYSTEM IN DLSU
A Campaign Against The Administration's Move Towards A Quarterly System
It has been long since the time De La Salle University adapted a trimestral system. Nevertheless, many students still do not completely understand the rationale behind such a system. Most people say that it is intended for the faster completion of study programs while few people say it is for the purpose of training students to handle pressure. But for whatever justifications there may be, the issue on whether the trimestral system has been effective and efficient is still the one to be addressed. What has the trimestral system done to De La Salle University?
Apparently, a formidable number of students end up being irregular and hardly finish on time. The number of students who "overstay" in the institution before getting their degrees is also quite alarming. On these grounds it is clear that the administration has yet to prove that the trimestral system has not done more harms than good, not to mention the fact that it is more costly compared with the traditional semestral system.
Ironically, the administration has come up with a scheme of adapting a QUARTERLY System. The scheme is planned to take effect at the soonest possible time--School Year 2002-2003. The proposed calendar is as follow:
1st Term: July 15 to September 28
Term Break: September 29 to October 6
2nd Term: October 7 to December 20
Christmas Break: December 21 to January 5
3rd Term: January 6 to March 22
Term Break: March 23 to March 30
4th Term: March 31 to June 15
"Summer:" June 16 to July 13
Each term will consist of 11 weeks. Term breaks will be 1 week except for Christmas break, which is 2 weeks. Summer break is for 1 month.
Students will have a maximum load of 15 units per quarter (total of 60 per year). Each unit will have 1.5 hours. Subjects of 4 units will take two consecutive quarters. Average completion time for 210 total units will be 3.5 years. Above average students can opt to take more than 15 units per quarter (definition of above average was not given).
The tuition and fees must be comparable to the trimestral system and the faculty and staff salaries should be at least 20-25% better.
This is absolutely unreasonable and will definitely cause the institution to topple down! A quarterly system will be in NO WAY beneficial to the students. Excellence in teaching, research, and community service (as part of the DLSU Mission-Vision) could not be achieved in such a short and rigid time frame.
Ample time should be devoted in the process of learning. This process should happen just at the right pace. Students should be given time to study,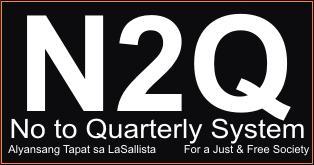 keeping in mind that much studying is done outside the classroom. A quarterly system will take away time from the students to review lectures, do assigned tasks, and prepare good research papers by giving them unreasonable academic loads-- meaning second-rate outputs. If in a 14-week trimester there is already considerable difficulty covering all topics in a typical course syllabus, how much more would it be for a shorter 11-week term?
Taking these things in consideration, the quarterly system will only result to a lower standard. The insufficiency of time to study in each course will make the curriculum weak. It is not difficult to foresee how the quarterly system would unreasonably increase the number of irregular students and the mortality rate in each course. A student should not only be taught but should also be given room for mastery that leads to excellence. In a quarterly system, unfortunate is the student who gets sick for a more than a week for he gets dropped and fails his courses.
Extracurricular activities will also suffer greatly from a quarterly system. It is not only the study time that will greatly be reduced by a quarterly system but time for extracurricular activities as well. Organizations would lose members, hampering growth and diminishing performance. The slump of the organizations within the institution could not be afforded since they provide an excellent venue for personal development.
As an overall assessment, the quarterly should be scrapped! It will lead to no good and would only skyrocket the cost of Lasallian education. The system, placing students to a totally disadvantageous position, would yield half-baked graduates, sacrificing competence and destroying the credibility of the university.
SUICIDE--This is what the quarterly system is all about! An early graduation and early job opportunities for the students are no brainer reasons behind such a system. These are fallacies--if it were really the true objectives, then the administration would have opened the summer term for course advances long ago. Instead, the quarterly system would only shape the university into a locale wherein education is commercialized and provided for a profit; mass production of diplomas occurs.
Alyansang Tapat sa La Sallista is committed in blocking the administration's move towards a quarterly system. For this matter, we are conducting a signature campaign. We ask for the support and participation of each and every Lasallian in this protest. You have the right to quality education. SAY NO TO THE QUARTERLY SYSTEM! Back to Top
Almost 7 years after former Vice-President Erap Estrada voted for the removal of the US Military bases in the Philippines, President Estrada said that he would lobby for the ratification of the Visiting Forces Agreement (VFA). He said it would reinforce the Philippines' military ties with the United States. This agreement will make the US committed to defend the Phil. Yet, in contrast, the Mutual Defense Treaty (MDT) states that the US is not necessarily committed to defend the Philippines in case of external attack.
With constant issue, many questions have been raised. Amongst them are : a) "Internal" sovereignty. The state wouldn't have its sole ability to control its domestic affairs, a compromise would have to arranged both politically and economically; b) territorially. Even though they are "visiting" armed forces, they surely will be utilizing what little land the Philippines have left. Farmers then will have trouble with land ownership (violation of 1987 constitution); c) entry of weapons. With US bases not around, prevention of weapons is minimal. It would cause mass destruction (nuclear, chemical and biological weapon). Many accidents will follow due to testing and drills; d) invitation to war. Naturally when the US is at war, their bases will be utilized posting danger to the Philippines 3) human rights violations. When the US were still in the country, prostitution was at high level and US armed forces personnel committed abuse. Back to Top
"So young and yet so corrupt..." -- description attributed to a well-known Trapo by the former mayor of Manila Students are disillusioned by politics. They brand it as dirty and corrupt. TAPAT believes this should not be so. Politics is simply the dynamics of power and as such is neutral. It becomes dirty only when used for personal gain by unscrupulous politicians. We strive to uphold a clean politics in our Student Council based on principles of democracy and public accountability, and we expect all officers to conduct themselves with the highest degree of integrity as possible. Thus we were appalled when a statement was made criticizing the Buy Back Books program of the Student Cooperative (SCOOP) Committee under the Office of the Vice President for Operations. It was said that the committee did not keep the agreement and that it defeats the purpose of the Pahiram Libro of the OVP-Academics. The Buy Back Books project is one of the Student Council's most innovative and commendable endeavors of recent years. To add to that, it has been beneficial to the students and successful. It has met their needs as well as their demands. We did not expect that there are such officers in the council who takes pride in finding fault in other officers while not even taking into consideration the principle behind their actions. To criticize incompetent or erring officers is one thing, but to actually berate an officer publicly for doing his/her job is the height of TRAPO politics. Which brings into question the motive behind all this. Was it jealousy because the project was a success? Publicity or grandstanding? Or mere ignorance of the true job of the SC officers? It was not even constructive criticism to say the least. But we cannot tell for sure. What is clear to us is that we do not need SC officers who hog headlines by using reprimanding words and putting down the body while having no real and concrete accomplishments of their own. We elect our representatives according to their platforms (supposedly) and we expect them to deliver what they have promised during their campaign. We believe that it is the officers' duties to support each other and work hand-in-hand to protect the students' rights, promote the students' welfare and provide venue for our holistic development which are apparently the role of the Student Council. Whoever contradicts any program that has immensely helped and benefited the students, we regard as shallow and selfish. We therefore ask that assertions be carefully thought of. Also, that they take into consideration the purpose and the end result of the project before making claims which do not help promote the name of the SC, but rather undermine its reputation. TAPAT believes that the root of the complaint against this project was not really substantial but a mere technicality. Philippine politics has enough Didagen Dilangalens who use technicalities for grandstanding. Let us not tolerate such people in our Student Council. Let us not sink into the trap of traditional politics. Let us not allow ourselves to be corrupted by petty jealousies. Let us practice our principles and conduct ourselves with the highest degree of ethics at all times. Let us remember that the true measure of a good activity in the Student Council is if it has helped the students and has fulfilled its primary role, which is to be of service to the students. Back to Top
Isa sa mga pinag-uusapan sa ngayon ay ang isyu sa pagdadagda ng isang taon sa mataas at mababang paaralan. Na ayon sa pamahalaan ay makadaragdag sa kaalaman ng estudaynteng Pilipino na makakabuti sa pagpapaunlad at pagkakaroon ng kaidad na edukasyon ng sa ganoon ay makatulong ito sa kinabukasan ng ating bansa.
Ngunit ito ay di sinasang-ayunan ng Alyangsang Tapat sa LaSallista. Bilang estudyante ang ganoong dahilan ay hindi ganoong makatuwiran sa kadahilanang naniniwala kami na hindi sa bilang ng taon masusukat ang lawak ng kaalaman ng isang mag-aaral bagkus, ito ay nasa kalidad ng kaalamang itinatatak sa utak ng kabataan. Kami ay naniwalang matatamo natin ang ating layunin kung ating tataasan ang standard ng mga guro na humuhubog sa pagkali ng mag-aaral. Sa aming pakiwari'y dagdag gastos lamang ang pagdadagdag ng taon. Bakit naman noon? Nakayanan natin, para saan pa...ating lutasin ang problema, wag natin itong takpan, at wag na rin natin itong dagdagan.
Kung ganoon kababaw at di makatarungan ang dahilan, nangangahulugan lang ito ng isang bagay na ang ilan sa ating mga batikang Pilipino at ilang may mataas na tungkulin sa pamahalaan na dito nagaral sa ating bansa ay may kakulangan sa pagaaral? Kung kaya't kami dito sa Alyansang Tapat sa La Sallista ay matinding tumututol sa pagkakaroon pa ng isa pang tao sa mababa at mataas na paaralan. Back to Top
TO: Office of Student Activities Student Personnel Services De La Salle University
FROM: Cherry Christine Ching President, Alyansang Tapat sa LaSallista
Greetings of Peace! As stipulated in Section 6 of the Students' Charter, the University guarantees the existence of a democratic and autonomous Student Council. This document, drafted by the Council and signed by the five major sectors of DLSU (admi, faculty, employees, parents, and students), contains all the rights by which Lasallians can develop and benefit. The Charter states that the Student Council has the right to determine its own policies and programs on student activities subject to its duly ratified constitution and policies. Being part of this unit, we put into question the relevance of an OSAc manual, which sets numerous guidelines for activity approval and other things such as info dissemination. We believe that this is a big step backwards in achieving our goal of an empowered studentry and a Pro-Student and Pro-People student government. Having read and discussed the revised manual among our members, we felt that the guidelines for student organizations are insulting to our intelligence and abilities as leaders. They tend to hinder us from implementing programs and organizing activities for the welfare of the students because of their extremely bureaucratic nature. While we concede that certain procedures must be followed to ensure order especially in reservations of venue and equipment, we also firmly believe that such procedures must be kept to the barest minimum in order to encourage participation. We have heard of a countless number of officers being discouraged to pursue an activity by the loads of paperwork needed. Please keep in mind that the University recognizes the importance of developing creative and responsible student leaders, and not secretaries, visionaries, or bureaucrats. Moreover, we feel that the gripes do not end there. We also resent the dictatorial bent of the OSAc, which has surfaced recently. Statements regarding your participation in the Student Council elections as well as restructuring of the Legislative Assembly do not sit well with leaders who have fought for their rights for most of their student life. Tapat believes that the OSAc is there to coordinate activities alone and not to influence, much less dictate, on the inner workings of student organizations. We are intelligent and responsible leaders. And we demand that you treat us as such. Political parties are among the most vocal when it comes to our rights and freedom, perhaps even more than the Student Council. Thus, we were taken aback by our inclusion in the OSAc manual. We have always abided by the provisions of the COMELEC Code during elections and we are currently lobbying for the passage of the "Guidelines for Political Parties" in the L.A. to govern us outside of these periods. Please take note that both are purely student-drafted and -enforced, which is how we perceive it must be. Being campus political players, we are grounded in reality. Thus we recognize that a laissez-faire policy in student activities may not be to everyone's liking and may be difficult to implement. But at least we want to make it clear to the OSAc our stand on the issue so that you may understand where we are coming from. Please consider that these concerns were raised mainly for the OSAc to be of better service to the students. Thank you very much. For a just and free society. We remain. Back to Top
To : The LaSallian Community
Fr : Alyansang Tapat sa LaSallista
Re : OPPOSITION TO THE WEARING OF IDs ON CAMPUS
Whereas, there is a proposal by the Administration to require students to wear their IDs on Campus.
Whereas, this move was proposed as a solution to the problem of campus security.
Whereas, it is the opinion of students that the problem in security lies in the laxity of the guards at the gate and that outsiders getting in will not be prevented from doing so by pinned IDs (they faked IDs in order to get in, what's stopping them from faking a pinned ID?).
Whereas, wearing of IDs is inconvenient especially while in civilian attire, awkward to look at , might lead to more lost IDs and may be a source of harassment for students who do lose their IDs (if you don't have your ID, you're considered an outsider and will therefore be stopped by every DO you meet!).
Whereas, the students will be forced to pay for this new ID.
Whereas, most students consulted by Tapat are not agreeable to this.
Wherefore, be it resolved, as it is hereby resolved, that Alyansang Tapat sa LaSallista, together with all those who agree with this resolution, collectively oppose the said proposal.
Wherefore, be it further resolved that this opposition be expressed through a letter (which shall contain the points expressed here together with the signatures of the supporters of this resolution) sent to the Administration, faculty, employees, and the Student Council, with the purpose of putting an END to this proposal.
Wherefore, be it finally resolved that this be done before the 27th of September 1996.
TAKE A STAND ON CAMPUS ISSUES!
STAND UP FOR YOUR RIGHTS!
EVAT (Extended Value Added Tax)
Bilang isang PRO-STUDENT at PRO-PEOPLE na organisasyon, ang Alyangsang Tapat sa La Sallista ay hindi sumusuporta sa Expanded Value Added Tax Law (EVAT). Ito ay napatunayang hindi epektibo at makakakasama pa lalo sa mga mahihirap.
Magpapatong ng 10% na buwis ang EVAT sa bawat bahagi ng produksyon. Natural lamang na magmahal ang bilihin sa ganitong sistema at ang mahihirapan lamang ay ang mga end consumer o ang mga ordinaryong mamamayan. Maikakarga ng mga negosyante ang kanilang gastusin sa kanilang ibebenta ngunit hindi it o magagawa ng ordinaryong mamamayang bumibili lamang kaya't ang itataas ng presyo ay kanilang sasaluhin. Lahat tayo ay apektado, diperensya lang, ang mga kapitalista'y may mapagkakaltasan ng ganitong karagdagan samantalang tayo'y lalo pang papasanin ang dati ng mabigat na presyo ng mga bilihin.
Hindi ang EVAT ang solusyon sa kakulangan na pondo ng pamahalaan. Makalilikom nga ito ng perang kinakailangan ngunit anong magiging epekto? HIndi mabuti ang solusyon kung makakasama sa mga nakararaming mamamayan. Back to Top
Copyright © 2001 by Alyansang Tapat sa LaSallista. All rights reserved.